SELECT PRINT FROM THE FILE MENU
The Irish Herald is the oldest Irish newspaper on the West Coast.
Subscribe NOW for only $25 a year in the U.S.(Standard-Class mailing)
or $40 to receive via First-Class mail.
Please indicate if you want to receive the Northern California or the Southern California edition. At the current time the $40 option is the only one available for the Southern Californian edition.
Papers sent First-Class mail arrive 1-2 days after publication.
It takes the Post Office up to 3 weeks to deliver Standard-Class mailing. Unfortunately, this is beyond our control.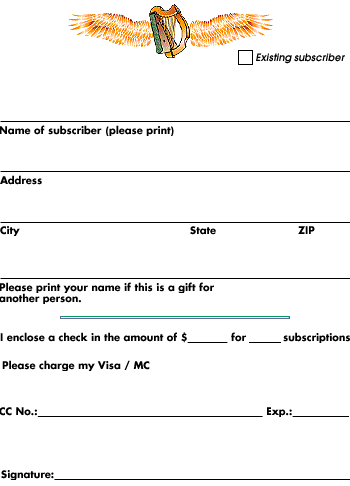 SEND THIS FORM TO:
The Irish Herald
The Irish Herald
1201 Howard Avenue, Suite 203
Burlingame, CA 94010

Telephone: (650) 344-3765
or fax (if paying by credit card):
(650) 344-3056